Sorry I missed yesterday, I have a bit of a cold and I kind of forgot to do the meme.
Any
way let's get back on track.
Day Sixteen's Theme: A song or song(s) that make you cry. I'll warn you now, most of my choices are either extremely well known, or not known at all unless you're a nerd.
"While Me Guitar Gently Weeps" -The Beatles
While I love the original, and I do, it's Martin Luther McCoy's rendition in "Across The Universe" that makes me cry like a bitch.
Titanic-Heaven (or The Dream)
While some people prefer to call this song The Dream, I prefer to call it Heaven, because deny it all you want, Rose dies at the end of the film, which is so beautiful. Anyway, I love this song, and it breaks my heart every time I listen to it, which of course makes it hard to listen to because I always end up crying.
Doomsday- Murray Gold (Doctor Who)
As a Doctor/Rose shipper, I feel no need to explain why this song makes me cry.
Day Seventeen- An Art Piece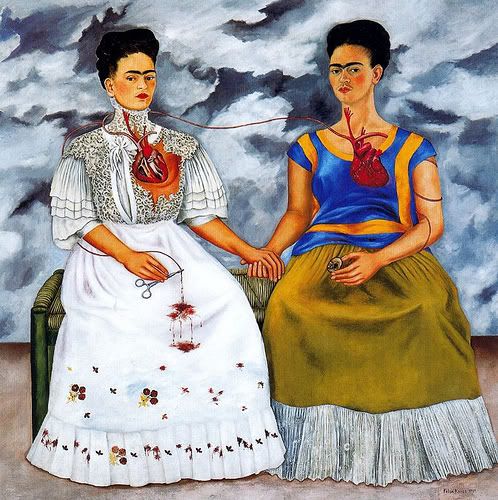 The Two Frida's by Frida Kahlo. My absolute favorite painting of all time. I love the conflicts that she painted here, between her traditional Mexican self that she was and the Euro-American that everybody else wanted her to be. It's amazing.
♥ Meg